Story Progress
Back to home
Cucumber and Peanut salad Recipe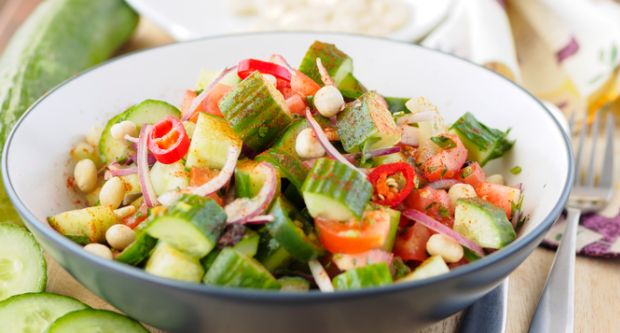 Also known as 'Kakdi Chi Kochimbri'. A cooling cucumber salad with the crunch of peanuts. This recipe was shared by Tara Deshpande in the gourmet session at The Imperial, New Delhi. The recipe is a part of her book "A Sense for Spice".

Ingredients of Cucumber and Peanut salad
1 kg long cucumbers
1 tsp powdered sugar
Salt
1/2 cup unsweetened grated coconut
1/2 cup unsalted roasted peanut, crushed
1 lime, juiced
For the tempering:
3 Tbsp ghee
1 1/4 tsp black mustard seeds
1/4 tsp asafoetida powder (heeng)
3-4 green chillies, finely chopped
1.
Peel the cucumbers and quarter them lengthwise. Scrape off any large seeds. Dice the cucumbers, place in a colander(sieve) over a bowl and refrigerate.
2.
When they are cool, discard any water collected. Mix the coconut and sugar in a bowl and toss the cucumbers in it.
3.
Heat ghee in a pan on medium flame and add the mustard seeds, asafoetida powder, green chillies when it is hot. When the spices splutter, cool and pour onto the cucumbers. Toss well.
4.
Add the lime juice, peanuts, salt and toss. Serve immediately.